Cinders is a Seal Tortie Tabby Point Siamese born on 30 June 2012. Her Mum was our Oriental Black girl Baggy and Dad is Gr Ch Barbecco Stay with Me. She is the quietest of all our girls preferring to sit on our laps away from the other girls when they play.  Cinders loves her dinner and is always in the kitchen first.  Her best friend is her mum.
Barbecco Popcorn (Carmalita) Born on 1 May 2012. Carmelita's Mum is Westgarth Wentworth Jewel and her Dad is Cinnphony Winwood Jewell.  She is our Cinnamon Girl. She has 2ccs and we are hoping she will get her 3rd very soon. She is a strong big girl and has a wonderful temperament.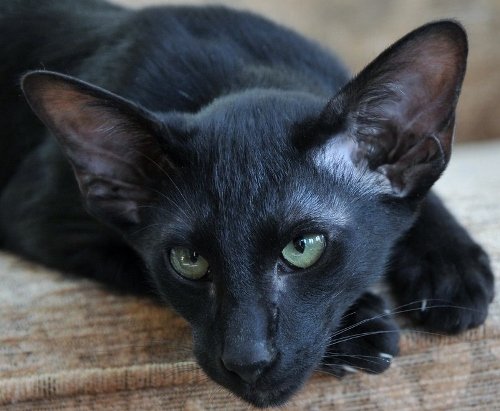 Baggy was born on 26 July 2010.  She is our Oriental Black girl.  Her Dad was Ch Kassalic Cassonova Cadbury and Mum was Adateam Kiesha Sugaababe.  Baggy has the most beautiful soft coat and gleams with health. She loves cuddles and loves to sit next to you on the chair but also likes her quiet times on her own on the back of your chair.  She has large, strong healthy kittens.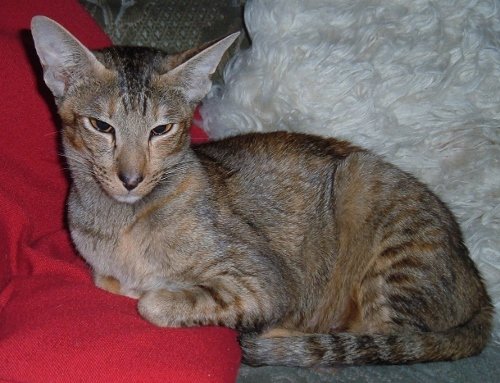 Feleena is our Shaded Oriental.  She is the sister of Cinders and her Mum is Baggy and Dad Gr Ch Barbecco Stay with Me.  She has 1cc but hates shows and so we do not take her anymore.  She is very long and slender.  She talks to you all the time and never too tired to play with her best friend Carmelita.
Wikiki is a Havana Born 10.6.15. She is one of our kittens from Baggie.  She is so affectionate and she is very clever.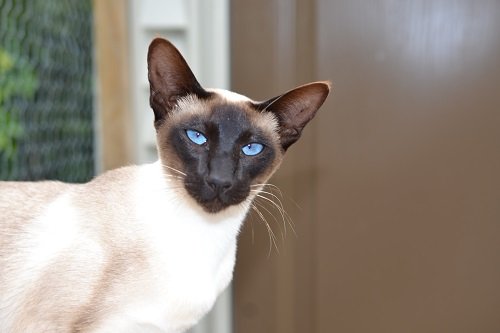 Chata – Seal Point Siamese is the sister of Wikiki. She never stops running and playing with Wikiki.  Always in mischief.